Perhaps you dream about sitting around a campfire with friends. Or maybe your outdoor wishes lean more toward lounging among flowers or grilling under the stars with your family. When you're planning to redo your landscape, consider your favorite activities — then design to that end. "Think about your hobbies, things you like doing outside," says Chris Jehs, who co-owns AJ's Landscaping & Outdoor Construction in Brentwood with his wife, Maria. "Bocce, bicycling, entertaining. You want to enjoy that space and use it all the time."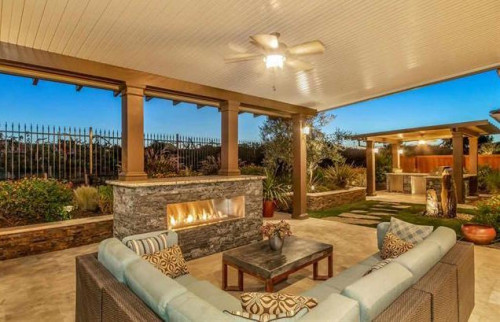 Shifting priorities. The couple opened their firm in 2008 to build on their love of the outdoors and start a family; Chris had previously worked grueling hours as a restaurant manager. "Our son was born the same month we opened our company," Maria says. They used their children's initials to come up with its name.
Photo by AJ's Landscaping & Outdoor Construction
Collaborative work. The Jehs are highly attuned to clients' aesthetics and lifestyles. "We do best when people want to be engaged and part of the process of design," Chris says. "I tell customers, 'You'll live with it, so tell me what you like and I'll build it.' " He takes cues from palettes, shapes and styles inside the client's home to create the outdoor look.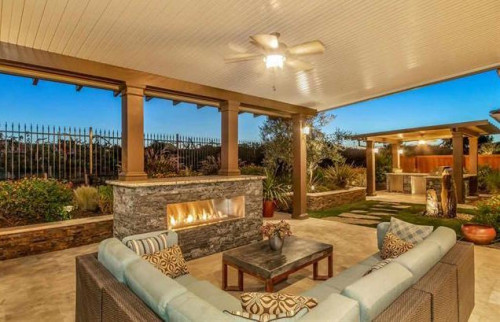 Ready to have your landscape match your lifestyle? The Jehs share their tips below.
1. Think About Placement
Consider square footage beyond the backyard when dreaming about your outdoor space, Chris says. In an empty front yard at this Oakland home, for instance, the Jehs' team created a bridge over a stream of rocks in memory of the young mother who had passed away.
The husband wanted to strengthen local community and enjoy the space, so the team added a stone veneer fire pit and benches that circle a decomposed granite patio where neighbors can sit and talk.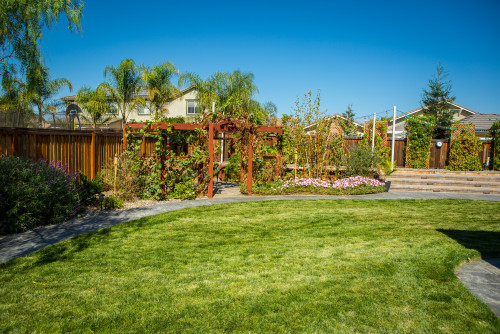 2. Consider Quieter Spots
Remember to focus on spaces that take solo activities into account, Chris says. The owner of this Brentwood home was both a busy mom and a schoolteacher who simply wanted a place to relax alone with a glass of wine.
The team created an inviting wood-framed corner that leads off the main flagstone path. Vines of table grapes sway overhead, flowers bloom most seasons and, since the space borders the bocce court, the mom can still see the family playing there. "Although the kids know they can't talk to her when she's in her space," Maria says with a laugh.
3. Add Family Zones
Instead of having just one large sprawling outdoor room, create places for different functions, Maria says. At this Pleasanton home, a large family wanted a space to hang out together.
There's now a kitchen area, defined by stacked-stone veneer walls that hold fridges and a grill, and where kids can perch at the granite countertops while watching TV or chatting with their parents. A dining area sits just one step down, easy to access with food from the outdoor or indoor kitchen. Twinkling pendant lights overhead bring the spaces together visually.